Puerto Vallarta Malecón Boardwalk and Sculptures Tour
This post is sponsored by Puerto Vallarta Tourism Board and Enroute Communications. The Puerto Vallarta Malecón boardwalk tour was also part of the hosted travel. All opinions are my own.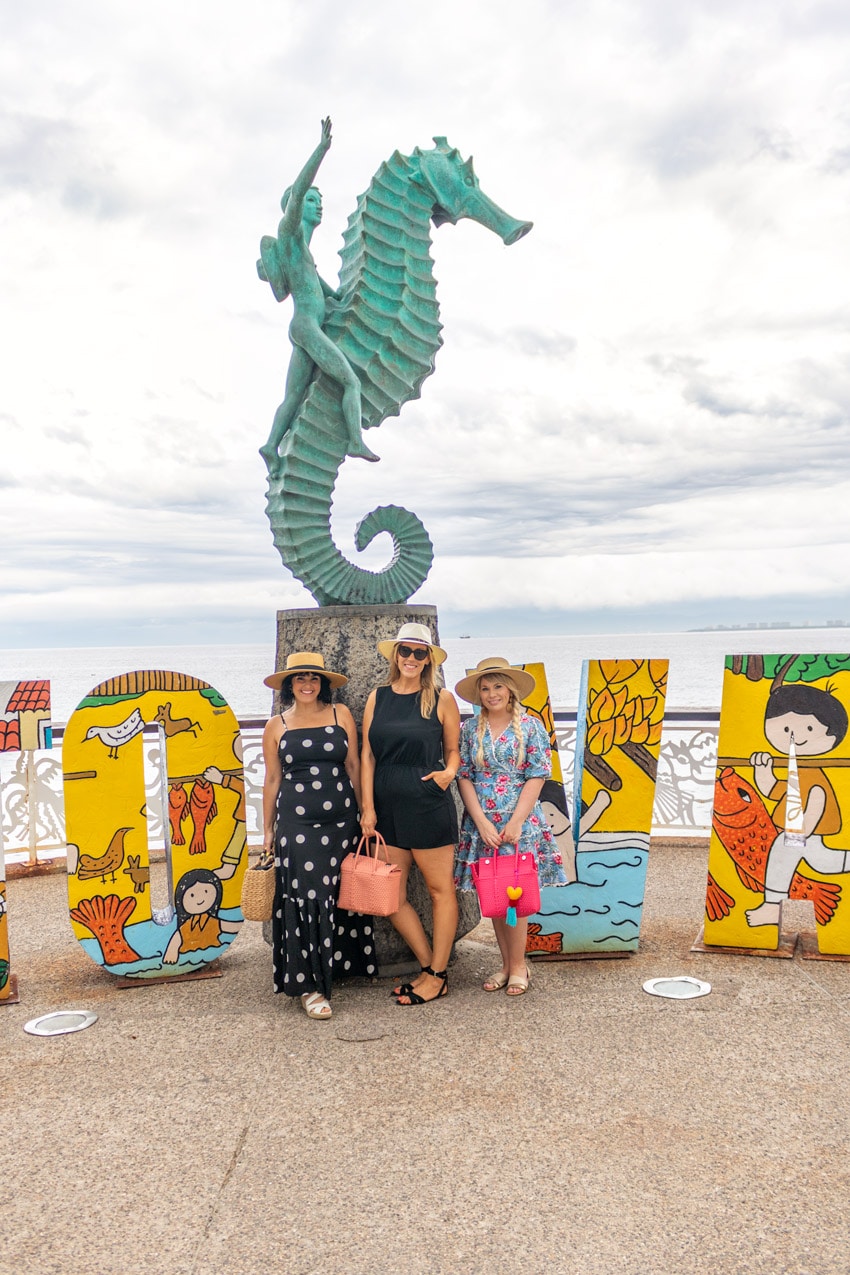 A couple weeks ago, I was invited to visit Puerto Vallarta for the first time. I've been to Mexico before, but only right across the U.S. boarder. I previously visited Nogales, Rosarito, Tijuana and Ensenada. But all of those cities are driveable from Arizona and California. We took little day trips or weekend trips, but this was my first time flying to a Mexican resort destination.
When I first arrived in Puerto Vallarta, I was so blown away by the beauty of the place. Flying in from LA was a special experience. I traveled over the greenest mountains and then suddenly, saw the Bay – Bahía de Banderas (which leads to the Pacific Ocean). It was such a stunning view as you land, seeing the city on the coast.
The first day, we settled into our gorgeous hotel. We stayed at the Marriott Puerto Vallarta Resort and Spa. I'm going to write a post just about my stay there. But let me just say, I would definitely stay there again. I'd actually live there if they'd let me!
Vallarta 101
The next morning, our little group set out to meet our Vallarta 101 tour guide. We were going to spend the morning touring the Puerto Vallarta Malecón boardwalk and checking out all of the art sculptures that line the beach side promenade.
Malecón Boardwalk + Sculptures
The entire tour took us about three hours, which included stopping in some shops and listening to our guide explain all of the history and stories behind each of the sculptures.
The entire walk was such a dream because we got to look at the gorgeous ocean and city views while also enjoying the lovely and unique sculptures. The promenade is just over a mile long and leads you along the water and also past a lot of the downtown shops, restaurants, and bars.
There was also art right on the beach. Several areas there were people stacking rocks to make impromptu scultpures, or carving sand into interesting sculptures. Although we set out early in the morning when it was pretty quiet on the Malecón boardwalk, we were told that many street vendors sell fish, leather goods, jewelry and artwork along the Malecón.
Although we did get to spend a lot of time on the Malecón that morning, I still wished we had even more time to linger and really savor each of the sculptures. I also wish I had a bit more time to shop and stroll along the Puerto Vallarta Malecón boardwalk. It is unique, beautiful, and a cultural center piece for the city. I will definitely be sure to spend more time on the Malecón on my next visit. If you head to Puerto Vallarta, make sure this is at the top of your list!