What to Wear in Greece: How to Pack a Carry-On and Greece Outfit Ideas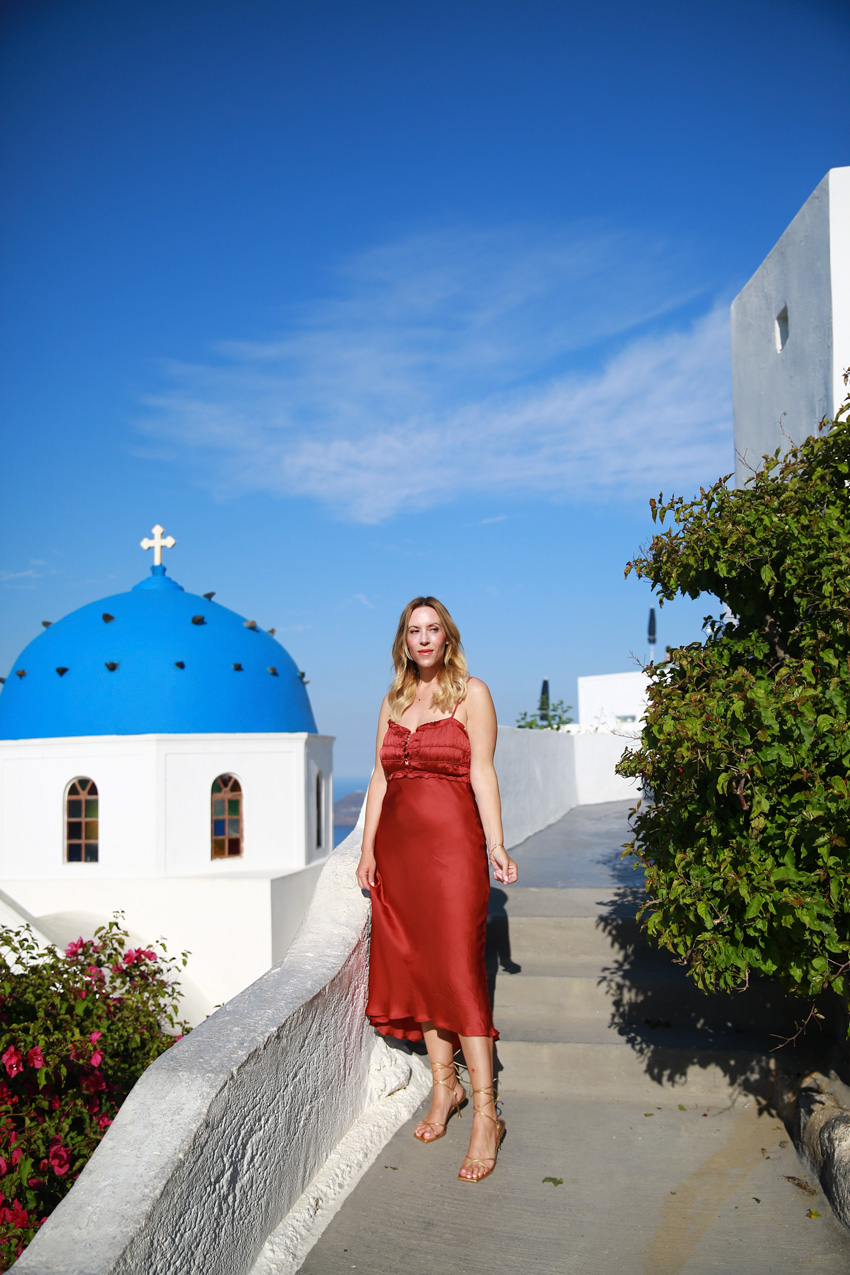 Planning a trip to Greece and wondering what to pack? In this comprehensive guide for what to wear in Greece, I'll share how I was able to travel to Greece for 11 days with only a carry-on and a personal item. I'll provide you with expert advice on how to pack a carry-on for a week-long vacation in Greece, along with outfit ideas and tips to help you stay stylish and comfortable throughout your trip. From exploring ancient ruins to relaxing on pristine beaches, Greece offers a diverse range of experiences, and I've got you covered on what to wear for every occasion.
Understanding the Climate and Dress Code in Greece

Before I dive into packing tips, it's essential that you understand the climate and dress code in Greece. Greece enjoys a Mediterranean climate, characterized by hot summers and mild winters. During the summer months, temperatures can soar, especially in popular tourist destinations like Athens and Santorini.
I would suggest you check the weather a few days before you leave. It was actually on the colder side when we were in Greece. Thankfully, I found the perfect layering pieces (this denim jacket!), and a few pairs of pants (these white linen ones were a fav) to ensure I had the right mix of layers for the hotter days and cooler nights.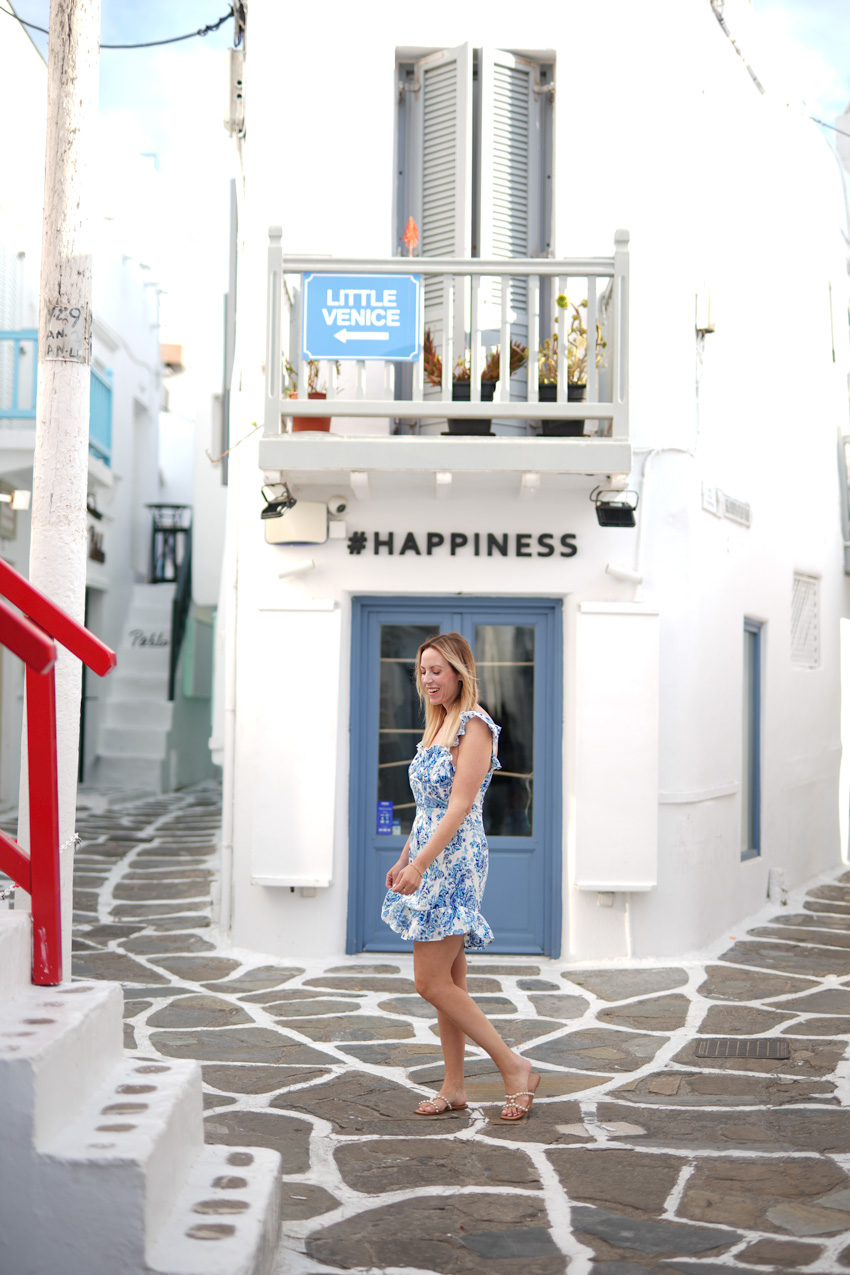 The Greek dress code is generally casual and relaxed, but it's important to respect certain cultural norms, particularly when visiting religious sites. In religious sites, you will want to be sure your knees and shoulders are covered. Yes, it's traditional, but better to either not enter or be respectful. Otherwise, pretty much anything goes. This specific packing guide is so you feel chic and modern and don't stick out like a tourist (skip the jean shorts and sneakers and opt for a more elevated look).
How to Pack for a Week in a Carry-On
To make the most of your Greece vacation while traveling light, follow these tips on packing a carry-on for a week. I know it sounds impossible, but I was able to pack for 11 days with only a carry-on and personal item. I used packing cubes, this suitcase, and this carry-on bag.
With these luggage items, I was able to pack 3 skirts, 2 pairs of linen pants, one pair of jeans, 10 tops, 4 swimsuits, 8 dresses, 3 cover-ups, 3 bras, 10 underwear, 2 biker shorts, 1 sports bra, 12 pairs of socks, 2 jackets, 2 sunglasses, 2 bags, 3 pairs of sandals, 1 pair of sneakers, toiletries, and my go-pro equipment. Seriously, I got all of that into a carry-on and my personal item bag! I am a fan of rolling my clothes and then placing them into the packing cubes, I find this saves space and you can iron the clothes when you arrive, if necessary. Now, let's talk about what to pack and what to wear in Greece.
Versatile, Light Weight and Neutral Clothing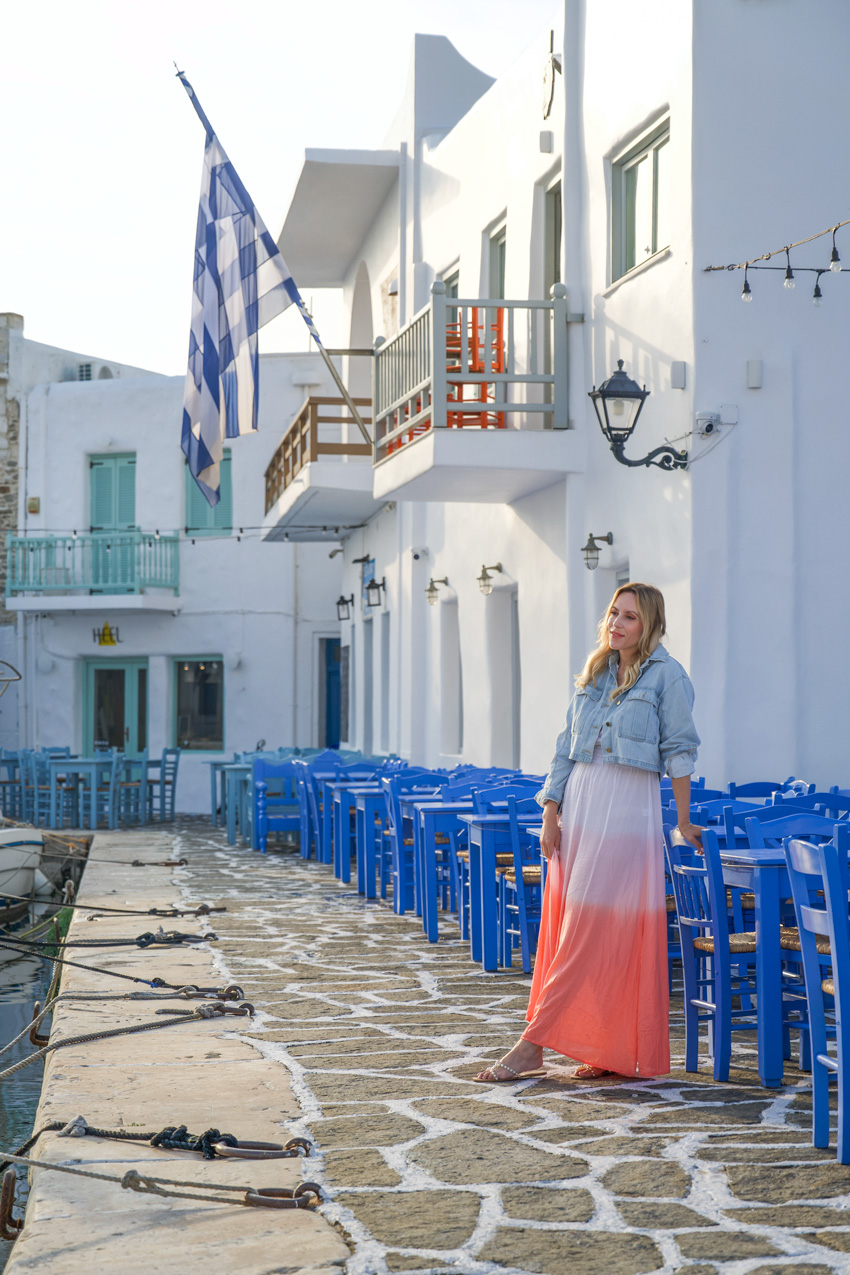 Opt for lightweight, breathable fabrics such as linen, cotton, and silk. Pack mix-and-match pieces like neutral-colored shorts, skirts, and trousers that can be paired with different tops. Don't forget to include a few dresses for evenings out. As I mentioned, I brought linen pants which are super lightweight and don't take up too much space. I also had several lightweight dresses, a few of them silk/satin, which also packs down to nothing. I also got a lot of basic tanks that would go well with the pants and skirts I brought. These skirts were also an awesome find – super affordable, versatile and pack down so small! This is the green one I got, here's the purple one, and this is the black and white one.
If you're wondering about my dresses, here are links to some of the ones featured in this post. Marigold Tiered Maxi, Green Floral, Burnt Red, Purple Ombre (sold out, similar), White Ombre, Neon Floral, Short Blue Floral.
Swimwear and Sun Essentials

Greece is famous for its stunning beaches, so be sure to pack a couple of swimsuits, a cover-up or sarong, a wide-brimmed hat, sunglasses, and sunscreen. I chose to bring this sun hat because it rolls up and is easy to pack. Actually, I carried it in my personal item. I also brought a baseball cap that is all-white so it felt chic and I wore that on the days we toured around Athens and the Islands' downtown areas.
You'll want to bring at least a couple of swimsuits and cover-ups. I ended up on three different boat tours during my 11 days in Greece. If you're looking for the most flattering one-piece suit, you need to check out this one. I got it in Ivory and Brown. It is such a flattering suit and I got so many compliments on it. I also brought a few different cover-ups, although I almost always reach for this long ivory lace one.
Comfortable Shoes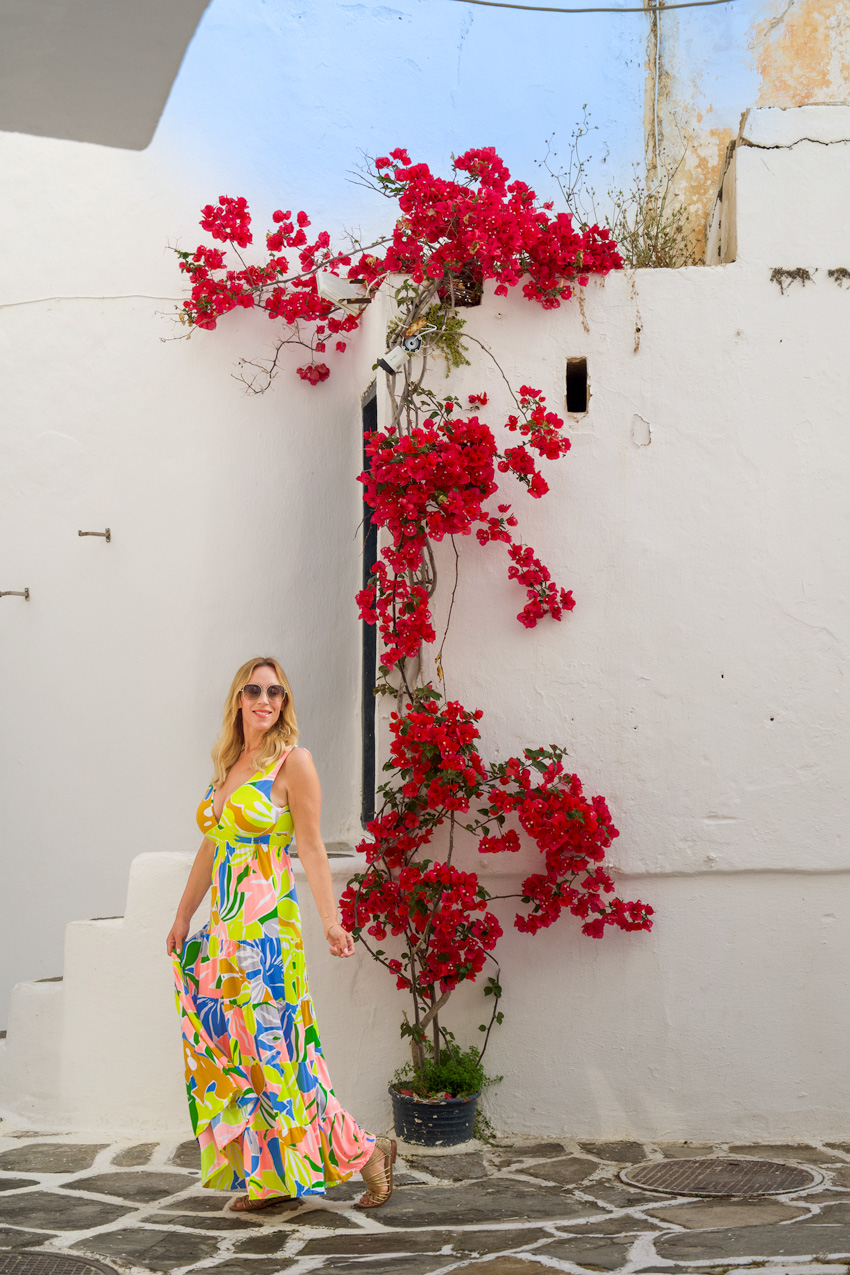 Greece is a destination for exploration, so pack comfortable walking shoes or sandals for sightseeing, as well as a pair of dressier shoes for evenings. I brought 5 pairs of shoes, but I actually only needed 4. One pair of wedges I only wore for one photoshoot. I brought this pair of sneakers that I wore on the plane. All-white is classic and looks great with skirts and dresses.
I brought these heels to wear for the evening and with dresses. They have a Gretian vibe and yet they are short enough of a heel so walking is pretty simple. Also, I brought these slides which were perfect for the beach and boating. The faux pearl details make them feel more dressed up than plastic slides. Finally, these gladiator sandals (similar) are my go-to because they look great with everything in gold leather, and they are super comfortable and easy to walk around in.
Layering Pieces
Although summers are hot, evenings can get cooler, especially near the coast. When deciding what to wear in Greece, make sure to consider layers. Pack a light jacket, cardigan, or shawl for layering purposes. I brought this wrap that works as a sarong or a shawl, a light-colored denim jacket, and a zip-up sweatshirt in ivory that also went with everything (similar). I also packed a long linen shirt that could work as a beach cover-up or an evening layering piece.
Toiletries and Other Miscellaneous Essentials
Remember to pack travel-sized toiletries, including sunscreen, insect repellent, and any medications you may need. For sunscreen, I brought a few of the travel size and also this powder which I left in my purse. I was with a larger group of people, so I often used their full-size bottles. Luckily, you can buy sunscreen almost anywhere you'll be in Greece, so even if you need to take a carry-on size, you can get more.
Also, invest in a good quality travel adapter to charge your electronics. I bought this two-pack for adapters. You'll also want to bring a cable or two for USB charging. It's also a good idea to bring a portable charger. I brought this one so I was sure my phone wouldn't die when we were out and about. You will probably rely on your phone for GPS, so you definitely don't want it to die. As we walked the Athens streets with the GPS, I saw my phone battery drained quickly, so I always kept this portable charger in my purse.
Accessories
I mentioned some of the other accessories in the sun essentials section – namely the two hats I brought with me. But I also wanted to touch on bags and accessories. One thing I'm so glad I brought is a beach bag. I actually packed one of the packing cubes inside the bag so that it would fit in my suitcase. This beach bag was so useful. Surprisingly, I carried it with me on all of our boat trips and beach excursions.
I also think having the perfect cross-body bag is really important. I opted for this medium brown bag because it went with all of my shoe options – I only brought neutral shoes in tans, browns, and golds. An off-white or cream-colored bag would also be a great option, as it goes so well with everything. The other great thing about this purse is that it actually is 4 purses in one so I could change up the look if I didn't want to wear it only as a cross-body. A cross-body bag is important though, as it's the best way to protect your items. Pick-pocketing is common in Europe, so you want to make sure to keep your items in front of you at all times.
I hope you find these tips on what to wear in Greece useful. I also thought I'd share a few outfit ideas if you're still considering what to bring.
Greece Outfit Ideas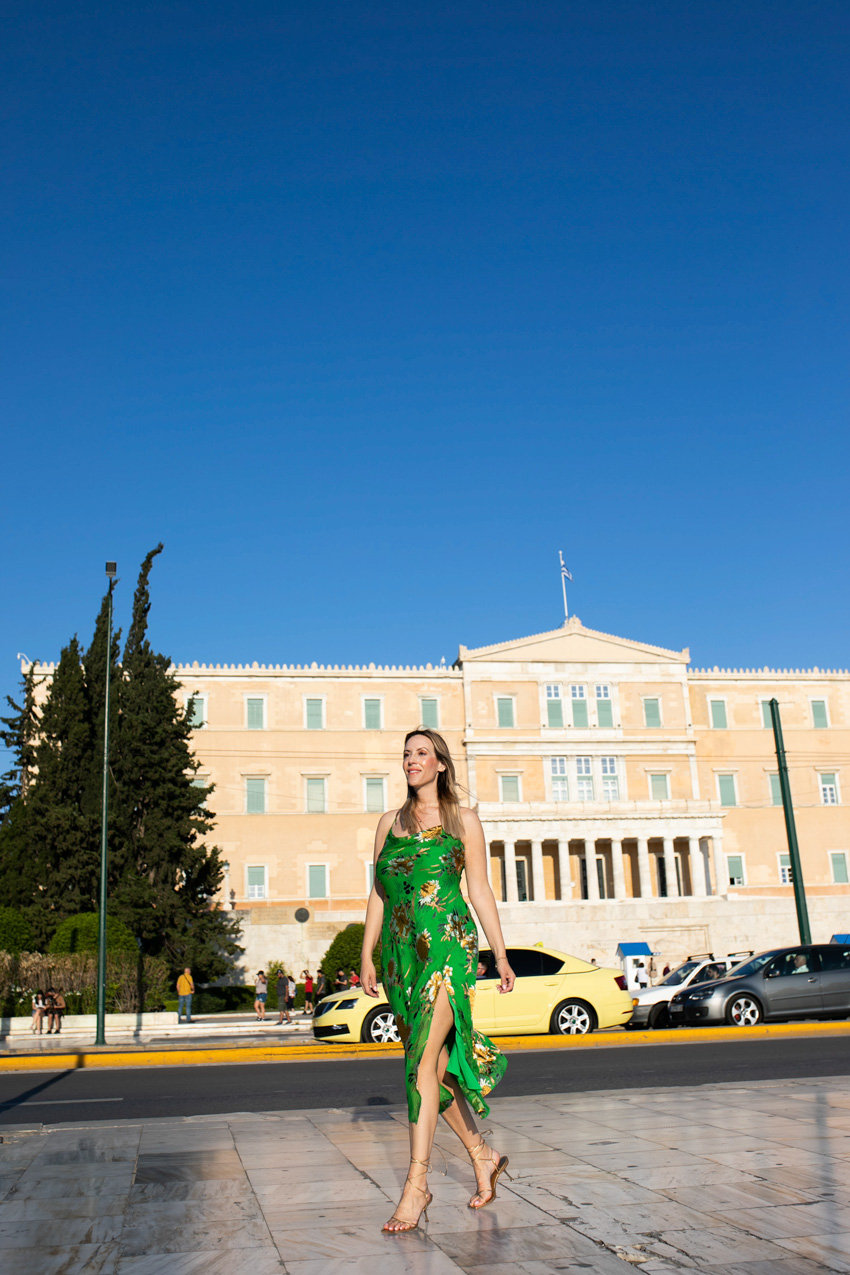 Exploring Ancient Ruins: When visiting archaeological sites like the Acropolis in Athens or the ruins in Delphi, opt for lightweight, breathable clothing, such as a maxi dress or linen pants paired with a breezy top. Don't forget a wide-brimmed hat, sunglasses, and comfortable walking shoes.
Island Hopping: For your island adventures, pack a variety of beachwear, such as bikinis, and one-piece swimsuits. Combine them with lightweight cover-ups, shorts, or sarongs for a stylish and beach-ready look.
Sunset Dinners: Greece is renowned for its picturesque sunsets. Dress up for a romantic evening by packing a flowy maxi dress or a stylish jumpsuit paired with elegant sandals and statement jewelry. I wore this jumpsuit for one of my nights in Athens. It was light-weight, flowy, still looked dressy, and gave all the Grecian vibes.
City Strolling: When exploring vibrant cities like Athens or Thessaloniki, embrace a casual-chic look. Opt for comfortable yet fashionable outfits, like high-waisted shorts, or flowy skirts paired with a trendy top and comfortable walking shoes. A note about shorts – I think they are acceptable if they are made of a dressier material. I do not suggest cut-offs or denim shorts, as they feel so casual and touristy. You can be even more comfortable by choosing lighter fabrics in shorts or skirts – like these linen shorts.
Last Word on Greece Vacation Outfits Styling Tips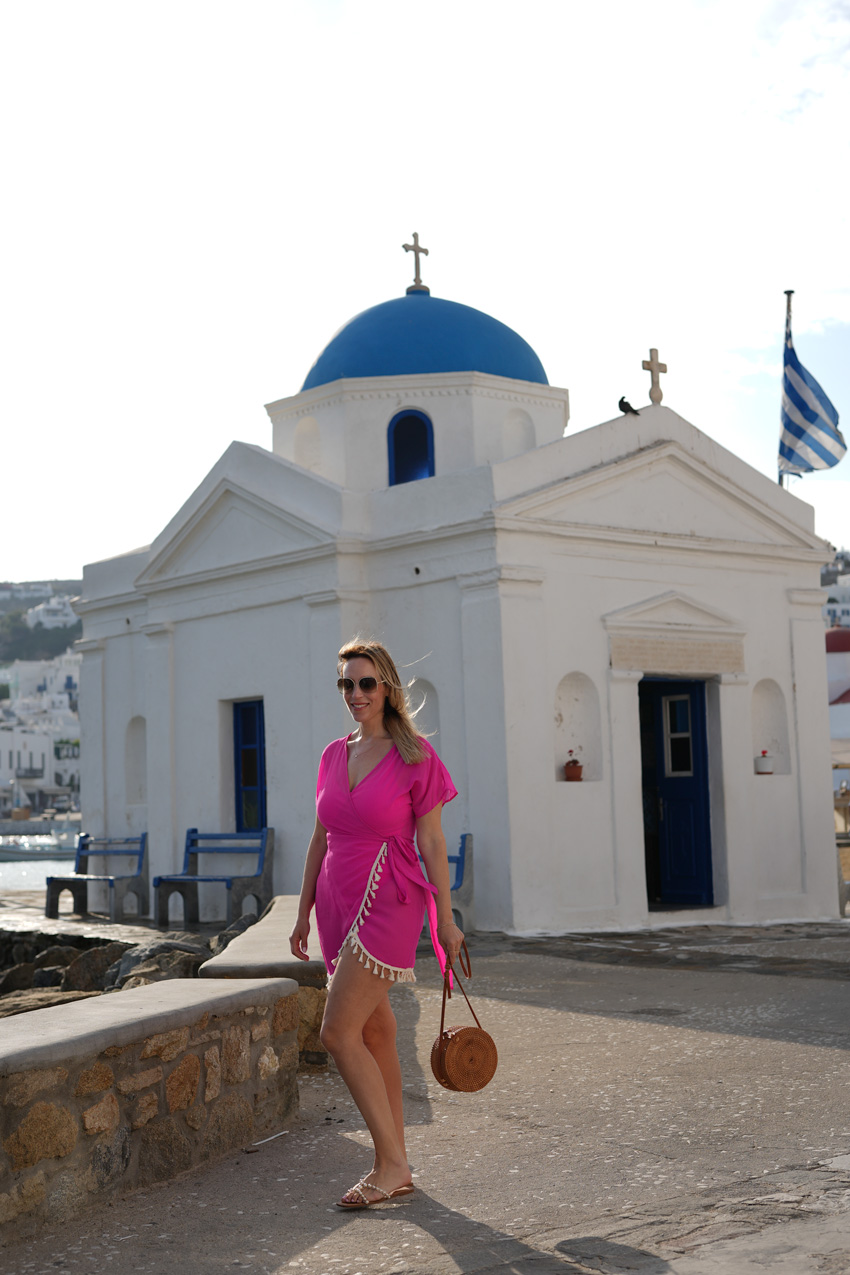 1. Embrace Greek-Inspired Fashion: When you're trying to decide what to wear in Greece, you should consider their style. Greece is known for its effortless and bohemian-inspired fashion. Consider incorporating elements such as flowy dresses, off-the-shoulder tops, and neutral color palettes into your outfits.
2. Accessorize Wisely: Pack versatile accessories like scarves, statement jewelry, and hair accessories to add a touch of flair to your outfits without taking up much space in your carry-on.
3. Pack Light: To make room for souvenirs and treasures you'll find during your Greece vacation, focus on essential items and mix-and-match pieces that can create multiple outfits for what to wear in Greece. I would also suggest you leave room to buy some clothing in Greece. Honestly, I wish I had brought fewer dresses so I could have bought more things while I was there. I did buy this flowy kimono that can be worn as a cover-up, dress or layered over white jeans as I did. It's such a fun statement piece that will always remind me of my trip to Greece.
Packing a carry-on for a week in Greece doesn't mean sacrificing style. By following our tips and outfit ideas, you can create a versatile and chic wardrobe that will keep you comfortable and fashionable throughout your trip. From the ancient ruins of Athens to the enchanting islands, Greece offers a perfect blend of history, natural beauty, and vibrant culture. So pack smartly, immerse yourself in the Greek experience, and create memories that will last a lifetime.
Remember, your travel wardrobe should not only be functional but also reflect your personal style. If you follow this guide, I'm sure you'll know just what to wear in Greece. Packing less is more because if you buy the right pieces, you can mix and match them during your vacation. Plus, you'll want to save a little room for souvenirs too! I hope you found this guide helpful and enjoy your vacation to Greece.
Looking for more travel stories? Click here. For other packing stories, click here.