I've been obsessed with the Starbucks bacon gruyere egg bites for a while now. Before quarantine, I used to go to Starbucks several times a week for a change of scenery. I've worked from home since 2018, so going to Starbucks was my home office away from home. Generally, I would get the bacon egg bites and my favorite nitro cold brew. I love the egg bites. They are a perfectly portioned breakfast with the protein I prefer to power through my morning. I tend to feel better when I focus on high-quality protein and fewer carbs. So, these bacon egg bites were always my go-to. Since I'm not going to Starbucks nearly as often now, although I do go to the drive-through from time to time, I thought I'd try to make Starbucks copycat egg bites in my oven.
Cooking Methods for Starbucks Copycat Egg Bites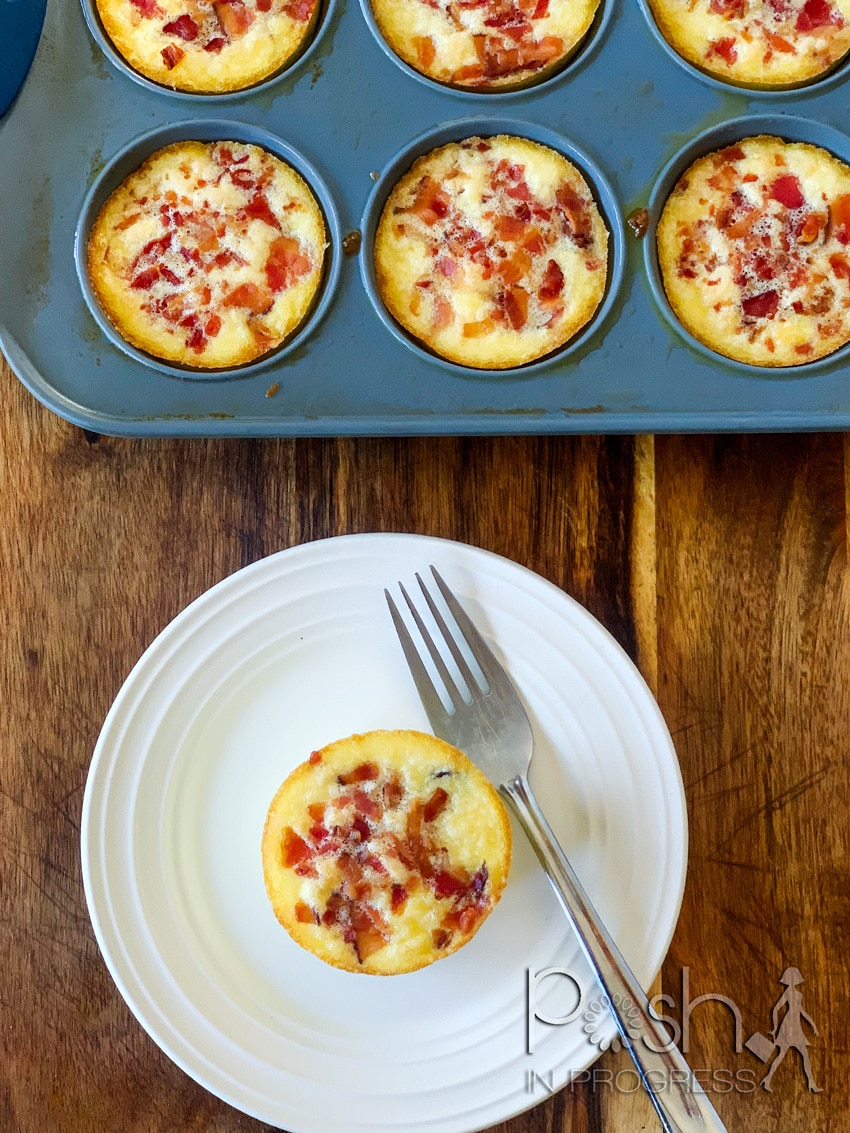 There are a lot of Starbucks copycat egg bites recipes on the internet. You can find them in lots of different flavors and baking methods. The Starbucks ones are sous vide, which means they are cooked at a very low temperature, either in a plastic bag or glass jar, to maintain even cooking which creates the moistest outcome. There are also a lot of the copycats that are done in pressure cookers and there are also many recipes that call to bake them.
I chose to bake mine but in a steamy environment to keep them super moist. If you choose to bake them without a water bath or with water in your oven, they will brown and get chewier and denser. If you bake them in a water bath or with a sheet pan with water, like I did, they will be much moister and closer to the sous vide method.
Pressure Cooker Vs. Oven

One of my good friends recently made her version of Starbucks copycat egg bites in her Instant Pot and she said they turned out so well. I have no doubt they taste just as good as the bacon gruyere egg bites I love from Starbucks. But I've been on the fence about actually getting an Instant Pot. I'm just not confident I'll use it that much, so I decided to try going the oven steamed route with my egg bites.
Honestly, I'm so impressed with how mine turned out. They are much moister than I expected. They do not taste dense or chewy at all. No, they aren't quite as good as Starbucks. But. They are close. And I can make almost a dozen of them for the same price as I pay at Starbucks. Also, I love making a dozen of them at a time. That way, I can heat them up anytime for a quick and healthy breakfast.
If you want to try to make these bacon gruyere egg bites, this is the recipe I followed. The most important steps are blending up the eggs and other ingredients and also baking them in a steamed environment. I'm sure changing up the ingredients is totally an option if you'd like to try these with other meats, cheeses or veggies. If you've tried to make these egg bites yourself, I'd love to hear which method you tried and what worked for you!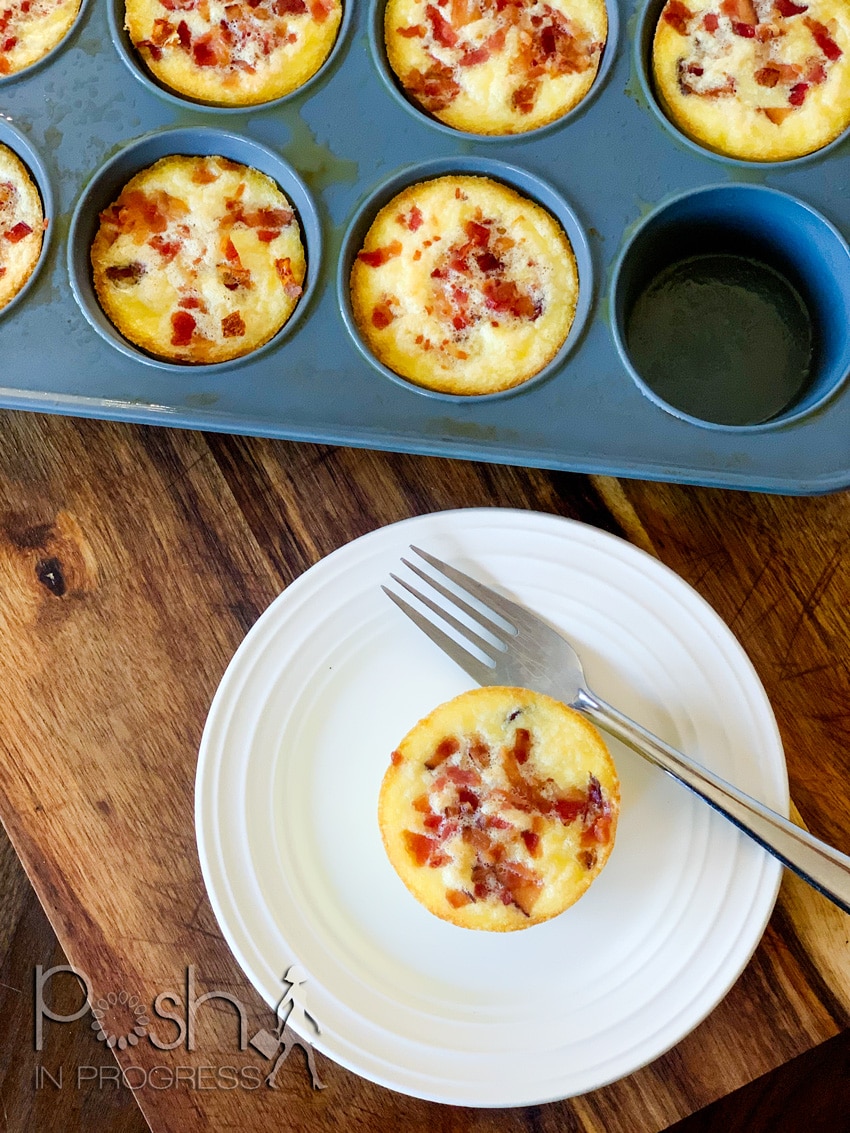 How to Make Starbucks Copycat Egg Bites
Ingredients (to make 12 egg bites):
1 dozen eggs
1 cup shredded gruyere (read this if you need a gruyere substitute)
1/2 cup cottage cheese (I used 2%)
12 slices of thick bacon, cooked and chopped
salt & pepper, to taste
cooking spray
12 muffin tin pan (silicone is best for easy removal)
Directions:
Recipe makes 12 egg bites.
Cook the bacon before-hand. I personally like to cook mine on a wire rack in the oven to get it super crispy and drain all the grease. Chop up the bacon.
Pre-heat oven to 300 degrees F and place a baking dish that is filled with 1 inch of water on the bottom rack. This will create a humid environment and help the eggs cook evenly.
Add the eggs, cheese, cottage cheese, salt, and pepper to a blender and blend on high for 20-30 seconds, until light and frothy. Spray a muffin tin with a little non-stick spray and fill the tins almost all the way to the top with the egg mixture. Divide the chopped bacon equally among all of the muffin tins and bake in the oven for 30 minutes, or until the center of the egg bites are just set. Remove from oven and let cool for 5 minutes, then use a spatula or fork to carefully remove them from the muffin tin.
Store the egg bites in the fridge for several days. Reheat in the microwave or warm in the oven.
Cook's Note: Next time, I will try putting half the bacon on the bottom of each of the muffin tins. Then, I will add the egg mixture, then top with the remaining bacon. My recipe, the bacon was all on the top, and I'd prefer it to be a bit more dispersed.