7 Unique Things to Do in Puerto Vallarta
This post is sponsored by Puerto Vallarta Tourism Board. All opinions are my own. 

I can't believe it's already been two months since Ieft Puerto Vallarta. I've been lucky enough to travel to a lot of different place around the world, but very few of them have stuck with me like Puerto Vallarta has. There was something so magical about the city, something I can't even quite describe.
My trip was part of a press trip with a group of other bloggers. Part of the fun and special feeling of this trip is probably because I got to spend a week with some amazing women. It felt very empowering and I even felt like I made a few new friends. Yes, this trip was sponsored, but no, they did not ask me to write any of this. I genuinely loved my trip there. I liked it so much I've seriously been thinking about a return trip. I'm actually considering spending my next birthday there. It might just be one of my favorite little cities. There were a lot of things about the trip I really enjoyed, so I wanted to share my top 7 things to do in Puerto Vallarta.
7 Unique Things to Do in Puerto Vallarta
1. Go on a Charter Boat Tour
On our last full day in Puerto Vallarta, they arrange for us to go on a boat tour. It was a semi-private tour where we took a boat over to an island and then got to snorkel, do water sports, and just hang out on the beach with a fresh cocktail. It was such a fun few hours and on the way back, we got to enjoy a lovely lunch on the deck of the boat. It all felt very posh and it was a wonderful time for me to get to know the other bloggers better.
2. Book a Spa Day
While I was in Puerto Vallarta, I was able to check out two gorgeous spas. The Marriott Puerto Vallarta, where we stayed, had a lovely spa and I got to experience their soaking tubs. This spa felt more authentic to the region – they had a lot of touches of Mexico and Mexican culture throughout. You can read all about my time at the Marriott PV here.
The Sheraton Puerto Vallarta also has a lovely spa, and this gorgeous pool, in the photo above. This spa felt very modern and I got to experience a massage while I was visiting. My massage was very relaxing and I really enjoyed their soaking tubs too. I also enjoyed some downtime in their relaxation room.
3. Take a Chocolate Workshop
Another extremely fun activity we did while I was in Puerto Vallarta, was when we took a chocolate workshop. We spent nearly 3 hours learning all about the history of chocolate in Mexico, making some of the traditional Mexican hot chocolates, and then we even got to make our own chocolates filled with ganache.
If you visit Puerto Vallarta, I highly encourage you to take the chocolate workshop or a cooking class (we did a ceviche class at the Marriott). It was so much fun to learn about the local cuisine and even try my hand at cooking and chocolate-making.
4. Eat at Casa Kimberly
One evening, we headed up the mountain to visit Casa Kimberly. This was Elizabeth Taylor and Richard Burton's home. The bridge I'm standing on in the picture above is actually the bridge that connected their two homes. We got to tour the homes and then we had dinner at the Iguana Restaurant. The homes are so beyond lovely and they have the most amazing views of Puerto Vallarta. Beyond the views, the meal was quite delicious and it was so nice to get to see the city from another vantage point.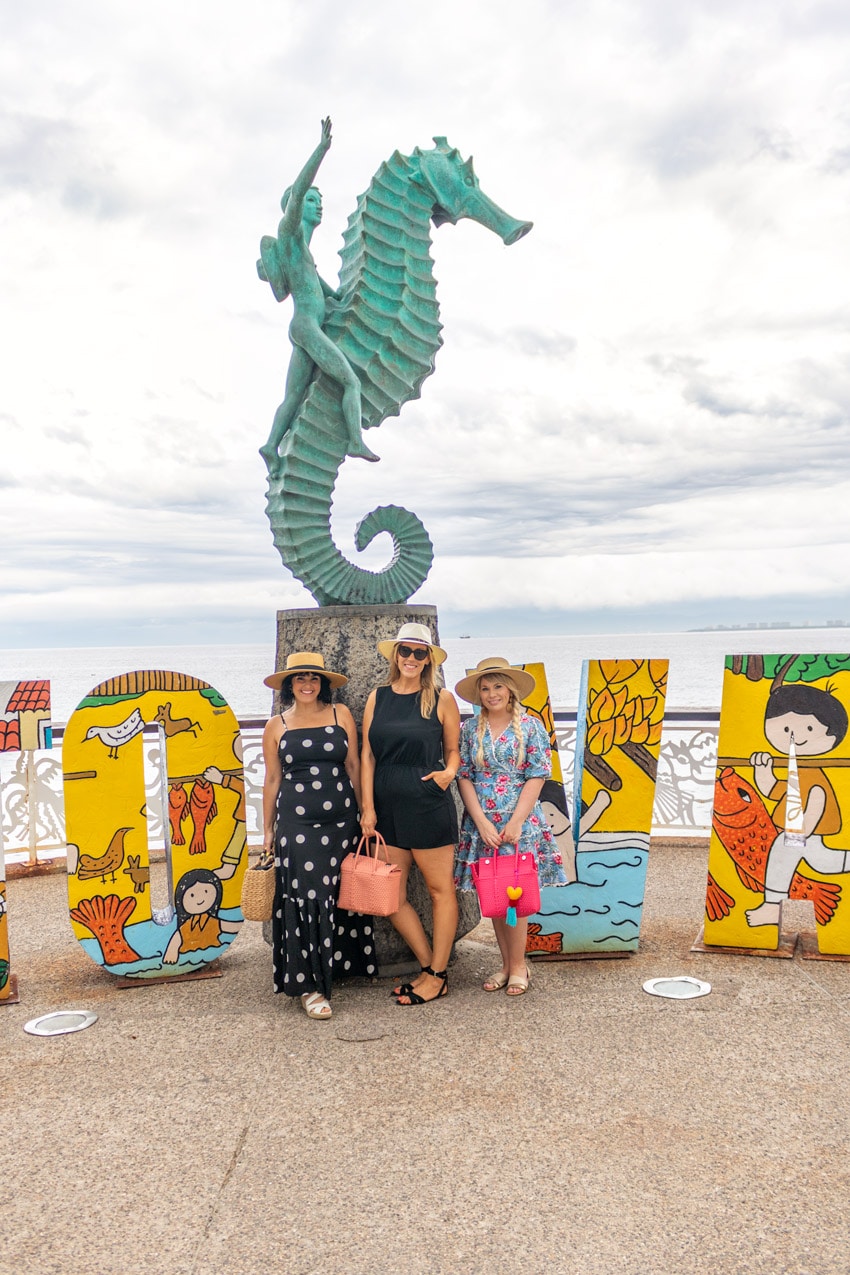 5. Tour the Malecon
One of my favorite experiences on the trip was touring the Malecón boardwalk to check out all of the art sculptures that line the beachside promenade. The entire tour took us about three hours, which included stopping in some shops and listening to our guide explain all of the history and stories behind each of the sculptures.
The entire walk was such a dream because we got to look at the gorgeous ocean and city views while also enjoying the lovely and unique sculptures. The promenade is just over a mile long and leads you along the water and also past a lot of the downtown shops, restaurants, and bars. You can read more about the tour of the Malecón here.
6. Visit the Local Market
Probably my only regret on the trip is that I didn't get more time to visit the local market. I only got to walk through one day while we were touring the Malecon. This bridge I'm standing on in the picture above crossed over a river and on both sides, there were cute little markets where locals sold all the quintessential Mexican souvenirs.
I did head back to the market for a quick trip to pick up some things for my family, but I still didn't have nearly as much time as I would have liked to look at all the little shops. I'll definitely make that a priority on my next trip.
7. Enjoy Dinner on the Beach
If you couldn't tell from the picture above, Puerto Vallarta has some of the most spectacular sunsets I've ever seen. One night, we had dinner at a local restaurant, and this was our view. Getting to watch the sunset with the tiki torches going was definitely a sight to be seen. We also spent some time before our dinner came taking pictures on the beach. Some of my very favorite pictures are from that evening. There are so many great restaurants down by the beach, so if you're in Puerto Vallarta, I highly suggest you reserve a table so you can take in their amazing sunsets.
Overall, there are so many fun and unique things to do in Puerto Vallarta. This list could have been at least double just based on the 5 days I was there. I absolutely can't say enough how much I enjoyed my trip to Puerto Vallarta. Like I said, I'm already dreaming about my next trip.