The 3 Best Palm Springs Resorts for Families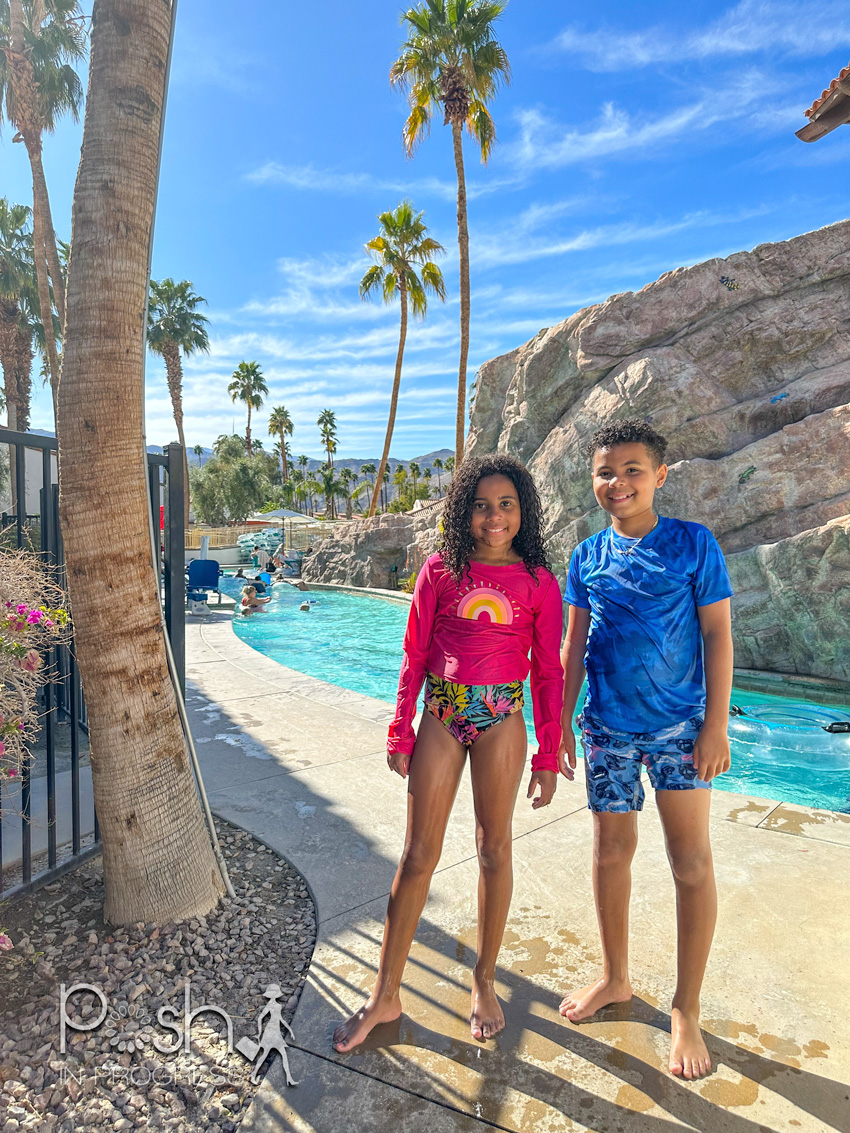 One of my favorite weekend trips from Los Angeles is to visit Palm Springs. It is only about a two-hour drive. When you get to the desert, it really does feel like you're in a completely new place. It's been a pretty chilly winter here in LA, so I wanted to escape the cool weather for some warmth and sunshine. Last weekend, we headed to check out another kid friendly Palm Springs hotel. We've stayed at several Palm Springs hotels in our four years in the LA area, but I'm always on the search for the best Palm Springs resorts for families. Read on to learn more about our recent stay at the Omni Las Palmas and my stay at several other Palm Springs hotels.
Palm Spring Resorts for Families
We've been to Palm springs about half a dozen times since we moved to LA in 2018. I've stayed at several hotels on my own and also several with my kids. There are a lot of really lovely Palm Springs resorts for families, but I want to talk about 3 Palm Springs kid friendly hotels I'd stay at again. By no means am I saying these are the only three great hotels for kids and families, I'm only saying these were all really great properties and my kids and I thoroughly enjoyed our time there.
3 Kid Friendly Hotels in Palm Springs I'd Stay at Again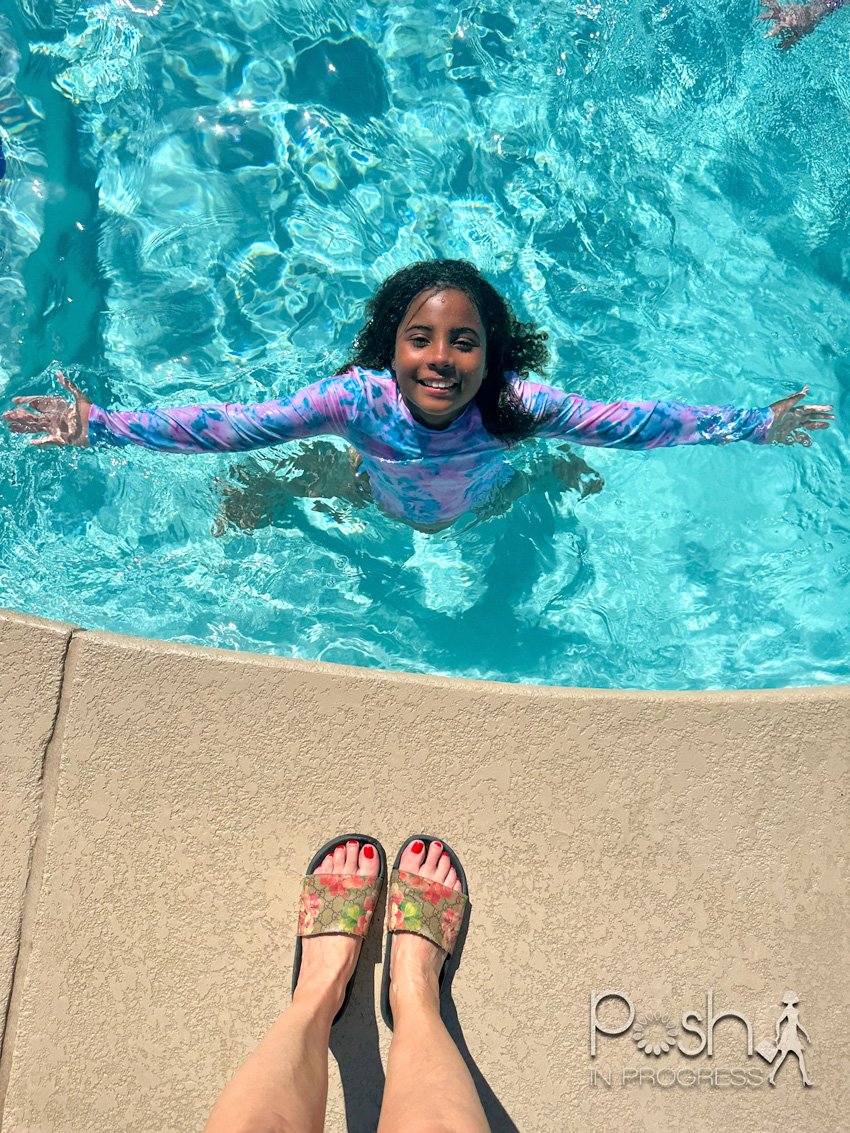 Omni Rancho Las Palmas Resort
Just last weekend, we stayed at the Omni Rancho Las Palmas. I chose this hotel because they have a mini waterpark that looked like a ton of fun for the kids. This hotel is also pet-friendly, which is a great option if you want to bring your pet. Like the Westin, this hotel has patio style rooms that are quite spacious. I was also really impressed with the staff at this hotel. I would put this hotel at the top of my list for Palm Springs kid friendly hotels because they definitely cater to having kids there. The grounds of this hotel are lovely and they offered several kids activities throughout the day, for a fee. My kids had the best time making slime in between their hours at the pool.
I would definitely say the Omni is at the top of the list of Palm Springs kid friendly resorts. The pool here was quite grand. The main pool was heated, which was great for a February trip. They also have a lazy river, a little sand beach, and also two waterslides. The water slides were nothing special, but still a lot of fun for the kids. I think they spent more time on the lazy river and in the main pool than on the water slides. They also spent a lot of time in the two hot tubs. My son actually spent a lot of time playing ping pong and basketball. They had a mini basketball hoop that he had a ton of fun playing on. They made some new friends and really had a great time.
I can't say enough about our experience with the staff at the Omni. They were really helpful and the service at the pool and room service was really great. The pool-side food was also quite tasty. I had a turkey club and the kids had burgers both days. The food came out quickly and hot. I also had to visit the resort gift shop because I forgot a hat and sunscreen. The staff at both of the giftshops were very helpful and directed me to exactly what I needed.
Hyatt Regency Indian Wells Resort and Spa
The Hyatt Regency Indian Wells is also one of the best Palm Springs hotels for kids. Although it's been a few years since we stayed here, I remember how amazing the pool and water park areas were. It's been awhile since we stayed here, but you can read all about our stay here.
Probably the biggest attraction for families to come to the Hyatt Regency Indian Wells is the massive Water Park right on site. The water park alone makes this one of the best Palm Springs hotels for kids.They definitely have one of the best pools for kids in Palm Springs area. The waterpark includes HyTides Plunge, the tallest waterslides in the desert. They have a set of 30-foot dueling waterslides. It's a 3 story ride. The Hyatt Regency is also one of the only Palms Springs hotels with lazy river, splash pad that includes dumping buckets and water cannons, and waterslides. The whole water park features seven expansive pools, overlooking the mountains and palm trees.
Westin Rancho Mirage Golf Resort and Spa
Another amazing choice if you're looking for Palm Springs resorts for families, is the Westin Rancho Mirage. The Westin rooms were very large and I loved that they had open patios that overlooked the golf courses and greens. The grounds were really lovely and relaxing. They also had three large pools and some water slides.
I also loved that this resort is dog-friendly, so we brought Coco with us. It was super convenient to have her with us since we had one of the patio rooms. We could let her out to use the restroom easily so it wasn't a hassle to have a dog with us. The hotel also had fire pits and other activities like board games and other fun things for kids to do. I really enjoyed our room at this hotel more than some of the others I've stayed at. I also just really enjoyed walking from the pools to our room because the hotel grounds were so pretty.

Activities to Do in Palm Springs with Kids
Palm Springs is a perfect vacation spot for families with children. There are many Palm Springs resorts for families, but there are also many other things to do with kids in Palm Springs. One of the top attractions is the Children's Discovery Museum of the Desert, which offers a variety of interactive exhibits and hands-on activities that encourage learning and creativity. Kids can explore a mock-up of a desert hospital, learn about the flora and fauna of the region, and even create their own artworks using different materials.
Another popular destination is the Living Desert Zoo and Gardens, which features over 1,000 animals from deserts around the world. In addition to animal exhibits, there are also nature trails, a carousel, and a playground for kids to enjoy. For older kids, there is even a zip line course that allows them to soar above the desert landscape.
For a more active adventure, families can take a hike in the Indian Canyons, a stunning natural area that boasts several hiking trails of varying difficulty levels. Kids can learn about the indigenous peoples who have lived in the area for thousands of years and observe the local flora and fauna up close.
The Palm Springs Aerial Tramway is another exciting way to experience the natural beauty of the region. The tram takes visitors on a ride up the steep cliffs of the Chino Canyon, providing spectacular views of the surrounding mountains and desert landscape.
Finally, families can cool off on a hot day by visiting Wet 'n' Wild Palm Springs, a water park with a variety of water slides, pools, and other attractions. Kids can enjoy the wave pool, lazy river, and numerous water slides, while parents can relax in the shade or take a dip themselves. With so many exciting things to do with kids in Palm Springs, it's no wonder that it's a popular destination for families looking for a fun-filled vacation.
Cabazon Dinosaurs
If you're looking for other fun things to do in Palm Springs for kids, you need to stop by the Cabazon Dinosaurs on your way to/from Palm Springs. The Cabazon Dinosaurs is a unique roadside attraction located in Cabazon, California, about 20 minutes west of Palm Springs. The main feature of the attraction is two large dinosaur sculptures that tower over the surrounding landscape – a 150-foot-long Brontosaurus and a 65-foot-tall Tyrannosaurus Rex. These sculptures were built in the 1960s and have since become a popular destination for families and tourists.
The Cabazon Dinosaurs also offers a small museum that features displays of fossils, minerals, and dinosaur bones. Visitors can learn about the history of dinosaurs and see replicas of various prehistoric creatures. There is also a gift shop that sells a variety of dinosaur-related souvenirs.
For kids, one of the main attractions of the Cabazon Dinosaurs is the opportunity to climb inside the T-Rex sculpture and explore its interior. The sculpture has several levels. It includes a gift shop and a viewpoint at the top that offers panoramic views of the surrounding area. There is also a small petting zoo on the property. Kids can interact with farm animals such as goats, sheep, and llamas.
Overall, the Cabazon Dinosaurs offer a unique and fun experience for families with kids. It's a great place to stop and stretch your legs on a road trip. Or, you can spend an afternoon exploring and learning about prehistoric creatures.
Best Hotels for Adults in Palm Springs
Although this post is focused on traveling to Palm Springs with kids, I did want to mention two Palm Springs hotels for adults that I'd highly suggest. The Ritz Carlton Rancho Mirage is a stunning property set up in the hills overlooking the Palm Springs area. We stayed in a suite and I can't say enough about the club lounge and the pool area. This resort is stunning and I'd definitely stay there again.
The other Adult friendly hotel in Palm Springs that I'd suggest is the JW Marriott Desert. Probably of all the hotels I've stayed at in Palm Springs, this one has the lushest and gorgeous grounds of them all. It is simply a stunning hotel. Our room was quite lovely. The only downside of this hotel when I stayed there (in 2020), was that the hotel itself did feel like it needed a bit of a facelift. The hallways felt really old and dingy, but the rooms themselves had been updated and were quite beautiful. This hotel grounds definitely felt like a true oasis. The hotel also has this little manmade lake right inside of the hotel with little boats, which was really unique. If you're looking for a more tranquil place to stay, I'd highly recommend either the Ritz or the JW.
I hope this post helped you consider Palm Springs resorts for families. I'm hoping this also gave you ideas of other kid-friendly things to do in Palm Springs. I will be staying at another Palm Springs hotel next month. I'll make sure to update this post after that stay. If you have other Palm Springs hotels you love, I'd love to hear about them! I'm always looking for new places to try. To read more about our past trips to Palm Springs, click here. For other California and travel stories, click here and here.