How to Make This 100 Year-Old Authentic Italian Lasagna Recipe

Every Christmas Eve, my mom made this authentic Italian lasagna recipe. It was one of our family traditions that I've since carried on to my family. This year, I made a few batches and even shared one with a dear friend who doesn't have family in town. It makes me feel good to carry on some of my family traditions, and this lasagna recipe is at the top of my list.
This Italian lasagna recipe is extra important to me because it is 100 years old. My grandparents immigrated to the U.S. in 1920. That year, my grandma got this recipe from an old Italian lady who had also immigrated to the U.S. from Italy. Every time I make or eat this authentic Italian lasagna recipe it helps me feel connected to my heritage and to my family that I never got to know. Unfortunately, my grandmother died when I was only 5 and my grandfather died before I was born. Despite not knowing them, I love to hear my dad's stories and the chance to reminisce with him.

Now, when I make the recipe, it carries me back to my own childhood, watching my mom make it every Christmas eve. It was something like whole family affair. My dad would help slice the mozzarella cheese, I'd sit in the kitchen and just watch as my mom cooked. My dad would chow down the extra lasagna noodles once my mom was done assembling. I have so many fond memories of the whole process.
This year, my own daughter did the same thing as I did as a child. She watched me as I made the homemade sauce, watched as I assembled all of the layers for this Italian lasagna recipe. She commented on how good it smelled and how excited she was to eat it. I can't wait for her to carry on the same tradition someday.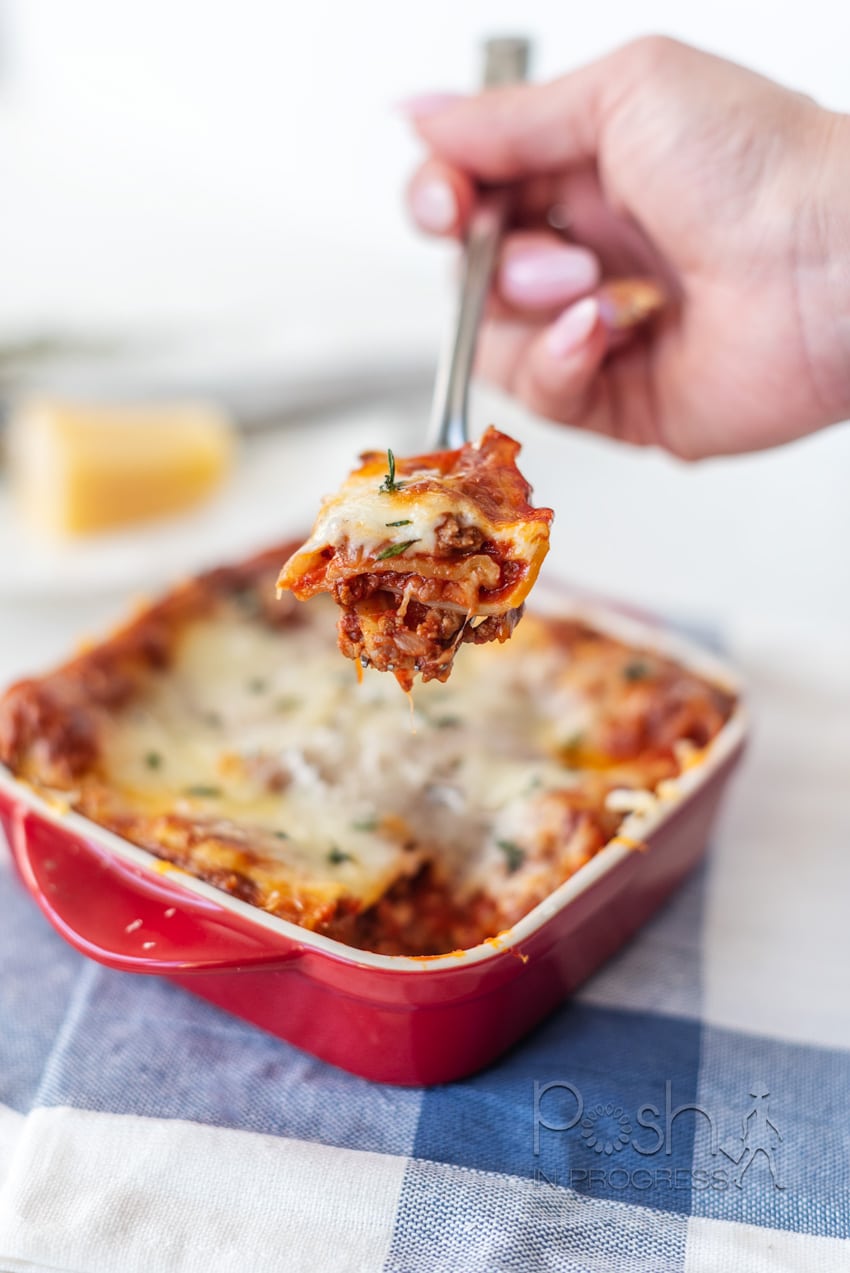 Although this recipe is old, it translates so well to today. It is warm, comforting, and a total crowd-pleaser. My kids loved it and anyone I've shared it with loved it too. It's a pretty straight-forward recipe, but it does take about 45 minutes to an hour to prepare, just because everything is made from scratch.
Authentic Italian Lasagna Recipe
1/2 lb lasagna noodles
2 T oil
4 cloves garlic chopped
1 small onion chopped
1 lb ground beef
2 1/2 tsp salt
1/4 tsp pepper
1/2 tsp basil
2-6oz cans tomato paste
1 1/2 cup water or 2 tomato paste cans full
2 eggs beaten
1-pint cottage cheese
1 1/2 lb mozzarella cheese, sliced
1/4 c grated Parmesan
Cook noodles in salted water 15 min. Drain. Heat oil in a skillet. Cook garlic and onion until soft.  Add beef and seasoning and cook until brown. Add tomato paste and water and cook 5 minutes until incorporated. Set aside. Blend beaten eggs and cottage cheese.
In a 9 1/2 x 13 inch pan put a thin layer of sauce, 1/2 the noodles, all the cottage cheese, and egg mixture and 1/2 the mozzarella cheese.  Repeat with sauce, noodles, sauce, mozzarella and sprinkle with Parmesan. Bake 30 min at 350 degrees. Cool 10 min before serving. Takes about an hour to prepare before cooking.
No-Bake Noodles: You can use no-bake noodles, but I would suggest adding one more can of tomato paste and water to make sure you have enough sauce to account for the no-bake noodles.
Make-Ahead: If you want to make this authentic Italian lasagna recipe ahead, do all of the steps up until the point of baking. Cover with foil and refrigerate for up to 3 days before baking. When you're ready to bake, preheat the oven to 350 and bake for 30 minutes with the foil on top. After 30 minutes, remove the foil and bake for an additional 15-30 minutes, until the top starts to brown.