Why this Toddler Birthday Party Made Me Feel Mom-Guilt
Right after Christmas, I had grand plans of a girly-dinosaur-themed birthday party I was going to create for my daughter's third birthday. I started scouring Pinterest for inspiration and even reached out to a couple of companies with chic dinosaur accessories for women that I thought would be fun to incorporate into her third birthday. I was determined to throw a majorly adorable toddler birthday party for my daughter, like I had done when she turned two (in case you missed it, it was zoo themed).
Then, all of a sudden, February was here and I hadn't done a single thing. To my defense, I'm a busy full-time working mommy who also blogs full-time and has to juggle two kids under 5. It's a lot.
But honestly, the week leading up to her birthday, I felt like a major failure. I hadn't made her a homemade cake or cupcakes like last year, I hadn't created any fun decorations by hand, I hadn't so much as bought her a birthday present.
Man, I felt so guilty and I felt like a bad mommy. How could I let my daughter down like that? How could I not make more time to get her party ready?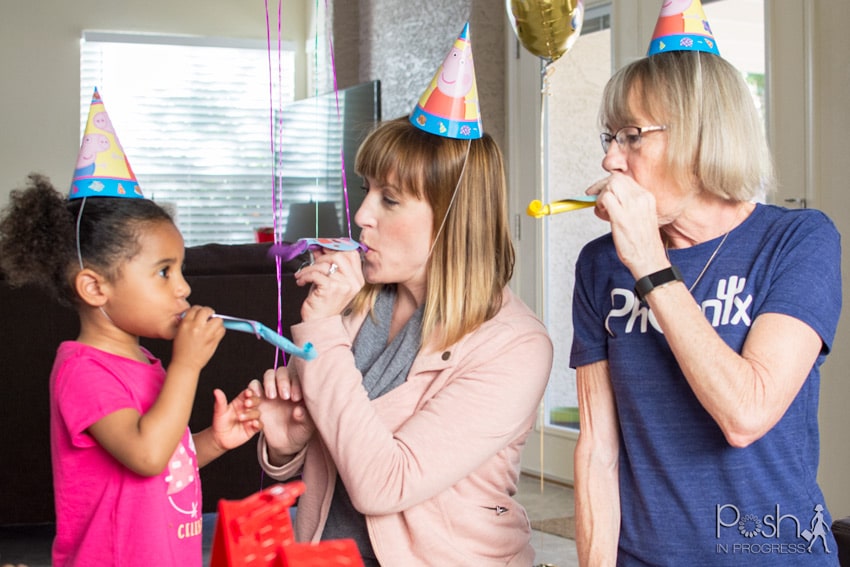 About five days before her birthday, I entered major stress mode. Luckily, my parents were in town and my mom asked if there was anything she could do to help with my daughter's party. I jumped at her offer to help and asked her to order cupcakes to bring to school and pick up the presents I was planning to buy her. I also instructed my mom on where she could find cute Peppa Pig rings to top the school cupcakes with. My mom was more than happy to help and we agreed she'd take care of the errands for me.
When the day before her birthday came, my mom dropped off the cupcakes and they were perfect! She had placed a Peppa Pig ring in each cupcake and the kids at school loved them. After school, Gigi gushed about how much she loved her little Peppa Pig ring and how she enjoyed eating the frosting and sprinkles off the top of the cupcake.  My son was even able to visit her classroom during snack time so he could enjoy a cupcake with her.
The next day was her actual birthday. I asked my husband to take the kids to the park so I could make her cupcakes for us to enjoy as a family at home. I cheated a bit and used a boxed cake mix, but I did make the buttercream icing by hand. Also, I used my icing tips to create semi-homemade cupcakes. It wasn't the elaborate cake I had in mind, but at least these cupcakes were made with love.
After naptime, my parents came over with her presents. We watched as she ripped open her new toys with utter happiness across her face. She especially loved her talking Peppa Pig car. Although I didn't do much in terms of decorating, I ordered some Peppa Pig balloons, hats and favors a few nights earlier from Amazon.  I had the balloons inflated during nap time and even almost two weeks later, my kids are still enjoying those balloons.
After presents, we sang her happy birthday and she blew out her big 3-year-old candle on her cupcake. She loved licking the frosting off the candle and especially loved eating all the frosting off the cupcake. She had a really fun birthday and felt loved the entire time.
Although I wasn't able to create the magical party I had envisioned in my mind, I quickly realized that she had a wonderful birthday. The simple little decorations and cupcakes I made at home were enough. It was nothing fancy or over-the-top, but it was just for her and she loved it.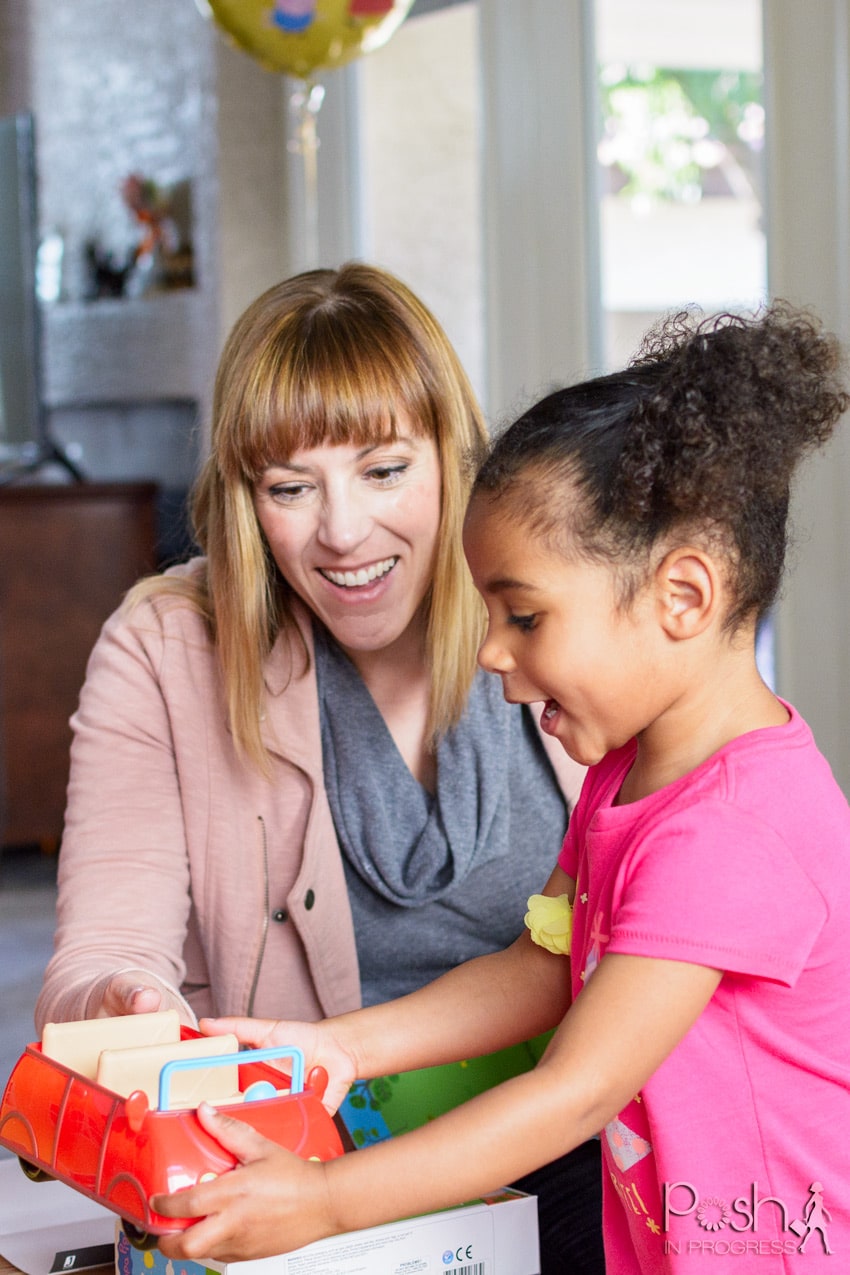 After throwing my son an elaborate 2nd birthday party, I thought I would have learned my lesson, but I guess I want my kids to have everything and I forget that they are often happy with just the little things. Our world of social media and Pinterest has skewed what is normal. We think we need to do more, be more, bigger, better. But we don't.
All of us moms need to stop comparing ourselves to others and stop setting unrealistic standards for ourselves. I'm working on being OK with not being super mom. I work hard, I parent hard, but sometimes I just can't do it all, and that's OK. Gigi's little 3rd birthday party reminded me that bigger isn't always better. Ejoying quality time with our little family is what matters most.
By the way, a week after her birthday, she had her 3-year check-up. When the doctor asked her about her birthday, guess what she remembered? The plastic Peppa Pig rings and cupcakes she brought to school. That was it. So yes, it really is the little things that matter most.
Apparently, I'm not alone in my feelings about a toddler birthday party. While I was researching this story, I found a lot of other moms who are feeling the same way as me. Here are some other fun articles, to help all of us stop the mom guilt and be proud of all we are able to accomplish.
Other Toddler Birthday Party Stories
8 reasons not to throw a first birthday party
This article totally cracked me up and it's so true! I would say the same things about 2nd and 3rd birthday parties too. I promise, your kids aren't going to remember them!
The insanity of birthday parties is getting to be too much
Let's stop looking at Pinterest so much and start setting realistic goals for ourselves. We aren't all Martha Stewart, and that's OK!
I don't throw birthday parties and I don't feel guilty
Really, what is it that matters most? It's not about the extravagant party, it's about family and about love.
So what do you think about throwing a toddler birthday party? Do you ever feel mom-guilt?